Røde kinder & Forlaget Asocial Burhøne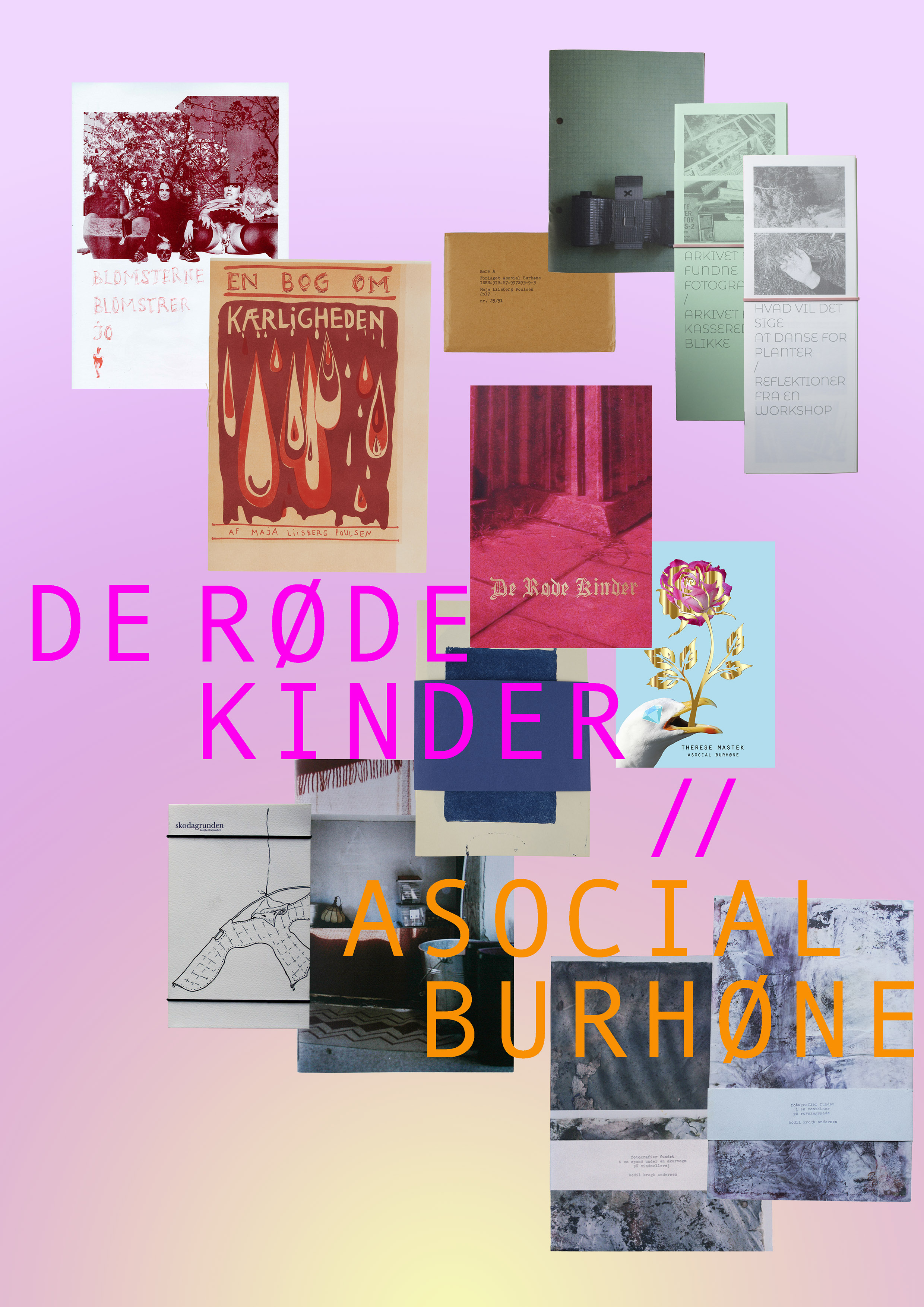 DE RØDE KINDER 
is a collaborative project inclusive of Therese Mastek and Maja Liisberg Poulsen, where they focus on outlet, investigation and experimentation, with themes such as monstrous femininity, revenge fantasies as well as outrage and exploitation. Their art explores elements of, and thrives within a range of medium such as published art, performance and fucking off of the patriarchy.  
FORLAGET ASOCIAL BURHØNE 
is a platform from where text-& imagepoetry 
can meet and be shared 
ab is a publisher for poetic politics/political poetics 
ab wishes to be a channel for ideas 
which needs are to be tested 
and shared 
while avoiding 
a long process of applications 
and economic blockages 
which is why 
AB chooses to self-publish small-scale matter with own printing equipment 
and with the help of the opportunities 
which occurs 
outside the opening hours of the institutions;) 
ab thinks and breaths collectively 
and operates non-profit oriented 
the surplus of sold publications often finances new projects 
and/or goes directly to the artist/author 
Therese Mastek, who is currently studying at Goldsmiths, University of London is a multi-faceted designer and visual artist who, with a succinct aesthetic, wishes to question and explore the realms of the traditional, progressive and the surreal.  
Maja Liisberg Poulsen is a visual artist graduated with a BFA from The Danish Royal Academy of Arts and MFA from GSA. She works with print, publications, printed matters, graphics, photography and performance and is  currently enrolled at Skrivekunstakademiet in Bergen. 
Bodil Krogh Andersen is a visual artist working with small-scale film essays and installations, and small publications consisting of an assemblage of found materials and analogue photography. reoccurring themes in her practice are domestic narratives and over-consumption 
Martin Christoffer Lund is a visual artist who has a text-and process-based practice and enjoys working within collective situations. 
love 
maja, therese, bodil & martin